Turning raw GPS and activities data into actionable business data.

You may have unique challenges, but we have the solutions.
Challenges  
Results
You don't know where your front-line
resources are and what they're working on at all times.
"Passport allowed us to integrate real-time labor and work order management, giving us better control over front-line operations."
Paper timesheets cause delays in payroll, inaccuracies in costing, errors in invoicing, or risks in compliance.
"Passport gives me more information than we ever had, while making data recording easier for our front-line employees."
Not knowing your true labor costs allocated to each employee, job and task, making it difficult to maximize productivity and profitability.
"Gaining real-time access to accurate labor data at job sites is a game changer for us."
Not being able to view routes graphically keeps you from making real-time adjustments to reduce costs and improve delivery.
"By optimizing our service routing, we've reduced mileage and driving time by over 30% while improving satisfaction for our customers, technicians and dispatchers."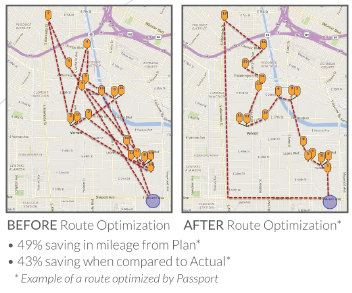 That's the power of Passport. Not convinced?  Let us show you how our applications can be an asset to your daily workforce.
Learn more about Passport's proven and measurable solutions, and contact us for a consultation.